James Johnson admits dangerous driving charge over death of 18-year-old Bethany Jones in collision on M62 in West Yorkshire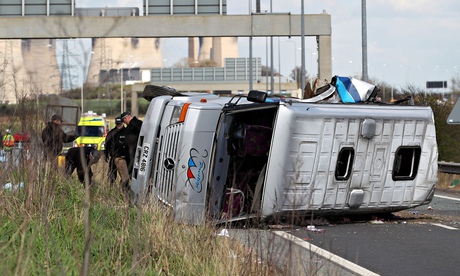 The scene of the crash on the M62 in April 2013. Photograph: Lynne Cameron/PA
A minibus driver has pleaded guilty to causing the death of an 18-year-old woman in a crash on a motorway as she travelled to a hen party.
James Johnson, of Wyke, Bradford, admitted the charge of causing death by dangerous driving at Leeds crown court.
Bethany Jones died and some of her friends and family were seriously injured when the minibus in which they were travelling collided with a lorry and overturned on the M62 in West Yorkshire in April last year.
Among those injured was bride-to-be Stefanie Firth as well as Jones's mother and sister.
Lorry driver Kevin Ollerhead, of St Helens, Merseyside, is also accused of causing death by dangerous driving. He denies the charge and will go on trial next month.
Johnson will be sentenced on 21 October.