Victims of jewellery heist gather to discuss next move and are advised to hire a lawyer, but
do not intend to sue police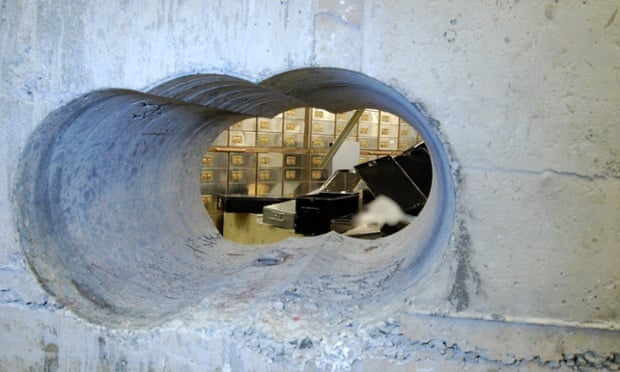 A hole bored through the wall of a vault in the Hatton Garden raid. Photograph: AFP/Getty Images
A group of victims of the Hatton Garden jewellery raid have been told that the chances of recovering their losses are "very limited".
Twenty-five people, some of whom have lost their livelihoods, gathered on Thursday to discuss what action they could take, after a gang of thieves ransacked 72 safety deposit boxes over the Easter weekend.
The meeting took place at the London Diamond Bourse (LDB), a trade association based near where the burglary took place at the Hatton Garden Safety Deposit Company in London's jewellery quarter.
Harry Levy, president of the LDB, said afterwards: "I was very pessimistic when I spoke to the people who have lost everything. I said that the possibilities of recovering money are very limited in this case. You never recover money from these big robberies."
He said some of the dealers who attended the meeting had been uninsured. "A lot of them claim they have lost their livelihoods," he said. "I said that they would have problems getting a fund going to recover money because we are regarded as unworthy individuals – it's not like a natural disaster where they've lost the roof over their heads and they haven't got any money to buy food.
"But eventually some of them will find they have lost the roof over their heads because they won't be able to meet their mortgages, they can't trade any longer."
Asked whether the victims were considering legal action, Levy said he had advised them to form a committee and consider employing a lawyer and loss assessor.
Police have offered a £20,000 reward for information leading to the arrest and conviction of all those involved in the raid and have released images of the Hilti DD350 drill that was used to bore a hole into the vault wall.
Scotland Yard is reviewing why officers were not sent to investigate an intruder alarm set off there shortly after midnight on the Friday. A call was received by the force's computer-aided dispatch system from the security company, but no police response was deemed necessary.
Levy said it was "not our intention" to sue the police, who he said had been "very cooperative".
He said he had "absolutely no idea" of the value of the goods taken. People were "past the stage of being upset", he said, but were annoyed that it had taken so long for the police to allow them to visit the crime scene and to give them a definitive account of what happened.
Source; http://www.theguardian.com/uk-news/2015/